Dark chocolate flourless pumpkin brownies, made with just 7 ingredients!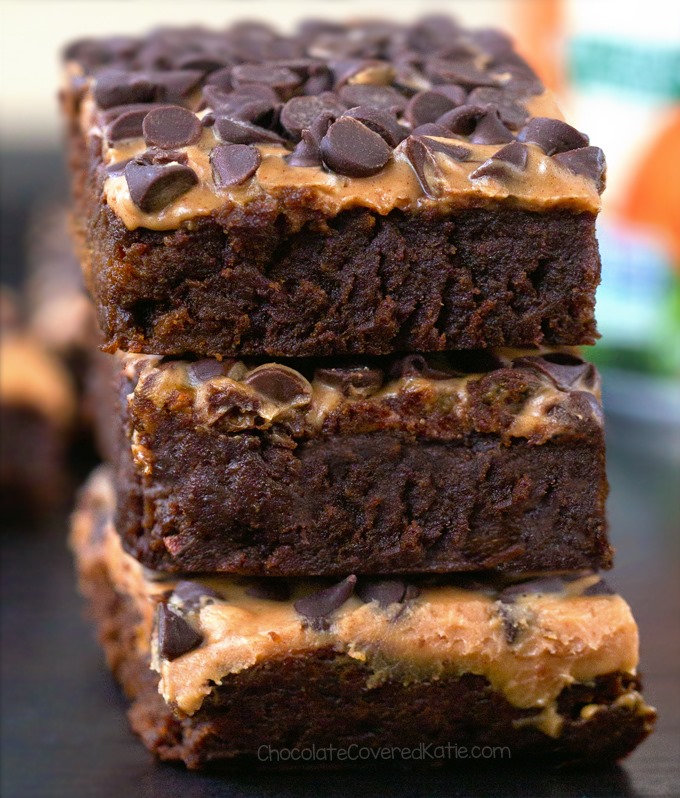 The pumpkin adds so much moisture to these brownies, without all the extra fat and calories.
If you like super soft and fudgy brownies, these are your brownies.
Unlike brownies made with oil, the pumpkin also adds fiber and Vitamin A.
Not that anyone's reason for eating a brownie is to get more Vitamin A… but it's a nice bonus.
You Might Also Like: Chocolate Chip Peanut Butter Bars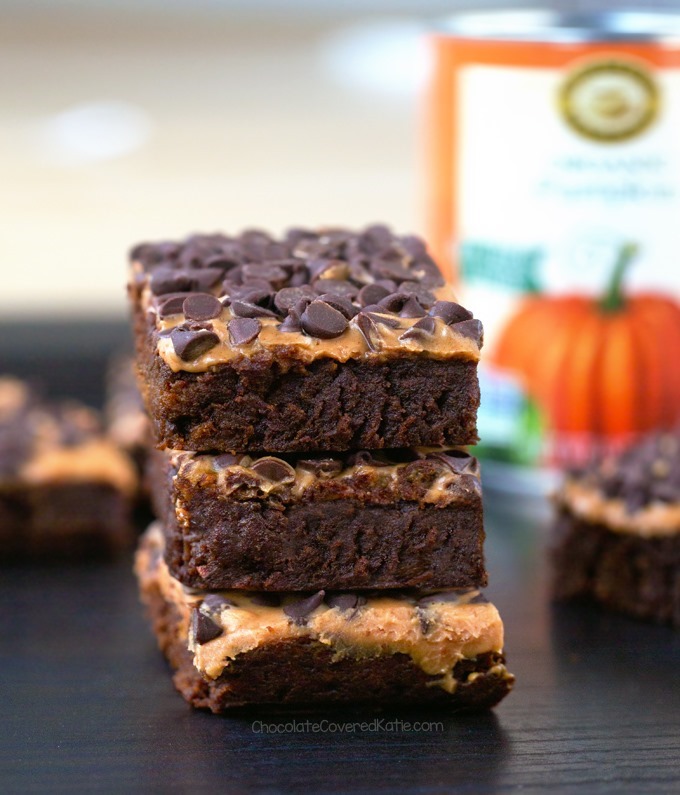 These pumpkin brownies are a delicious and healthy post-workout choice.
They're perfect if you're the type of person who loves healthy desserts and is looking for a new healthy snack option instead of the usual energy bars or protein bars.
But full disclosure: if you want a brownie recipe to bring to a party or serve to people who aren't necessarily used to healthy desserts, I'd recommend trying one of the following recipes instead:
Black Bean Brownies
Sweet Potato Brownies
Vegan Brownies
Almond Butter Brownies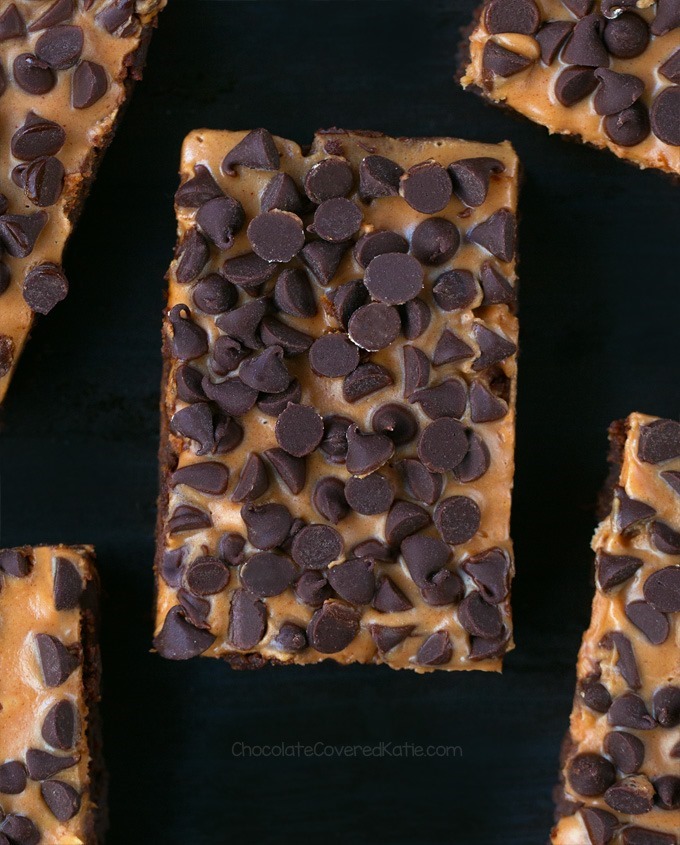 You can eat them unfrosted or top the brownies with peanut butter, almond butter, coconut butter, or any favorite frosting recipe.
Or you can simply press some mini chocolate chips on top right before they go in the oven for an easy no-frosting brownie that is ultra chocolatey.
I opted for both frosting and mini chocolate chips in these healthy pumpkin brownies, because I'm indecisive like that.
Trending Right Now: Chocolate Zucchini Bread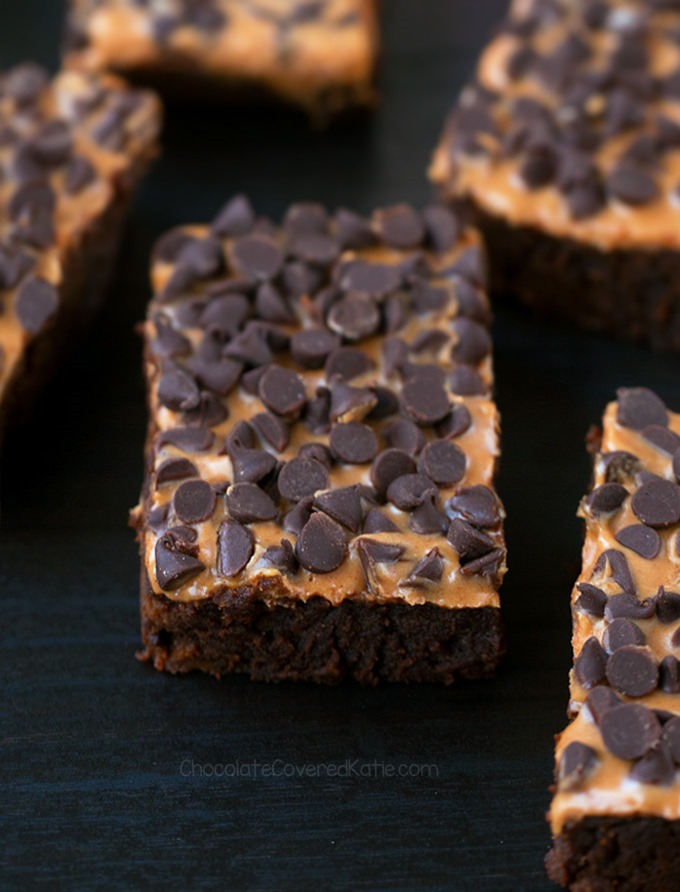 Are there any other workout brownie flavors you'd like to see?
Please feel free to leave suggestions in the comments below, because I love hearing your ideas.
Leftover pumpkin? Make these Pumpkin Muffins
Above, watch the video of how to make the brownies


A Fall-inspired version of the popular Chocolate Workout Brownies.
1 1/4

cup

pumpkin puree

2/3

cup

almond butter

or allergy-friendly sub

1/3

cup

cocoa powder

1/4

cup

sugar

(for low carb, try these Keto Brownies)

3

tbsp

chocolate protein powder or additional cocoa powder

1

tsp

pure vanilla extract

1/4

tsp

salt

1/4

tsp

pumpkin pie spice or cinnamon
Note: Sunbutter or pumpkin seed butter can be used for allergy-friendly brownies. You can use regular unsweetened cocoa or a combination of regular and dutch.

Preheat oven to 325 F. Line an 8-inch pan with parchment. Gently warm almond butter until it is easily stir-able. Combine all ingredients in a bowl, stir until completely smooth, and spread into the prepared pan (see video). Bake on the center rack 20-25 minutes (20 for extra fudgy brownies) – they will be undercooked when you take them out. Let cool, then loosely cover with a paper towel and refrigerate overnight, during which time they firm up without losing their fudginess. They're also much sweeter the next day! Frost as desired – I iced the brownies with Pumpkin Peanut Butter, recipe linked earlier in this post. Refrigerate leftovers 2-3 days or cut and freeze up to a month. You can eat them straight from the freezer if you wish! As I mention in the original version, these brownies are more of a healthy snack than something you'd make for a bake sale or party. If you enjoy desserts that do taste a bit healthier than their traditional counterparts, hopefully you will love these too!

View Nutrition Facts
More Healthy Fall Recipes: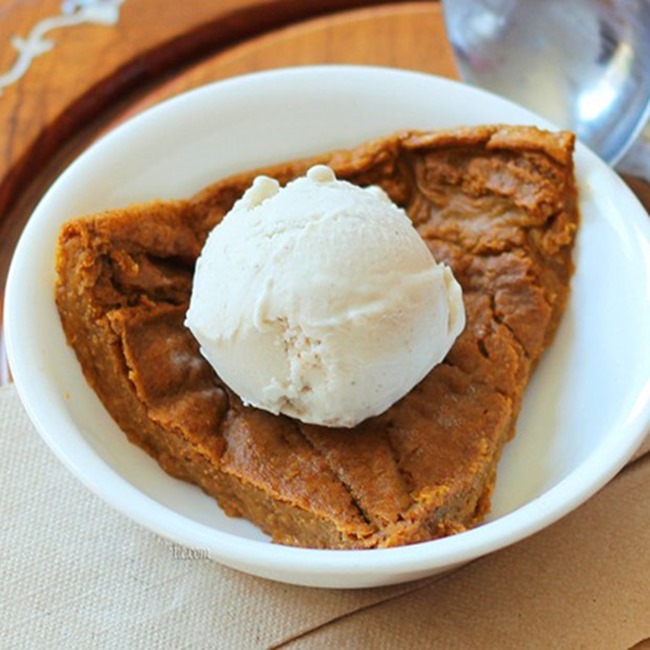 Crustless Pumpkin Pie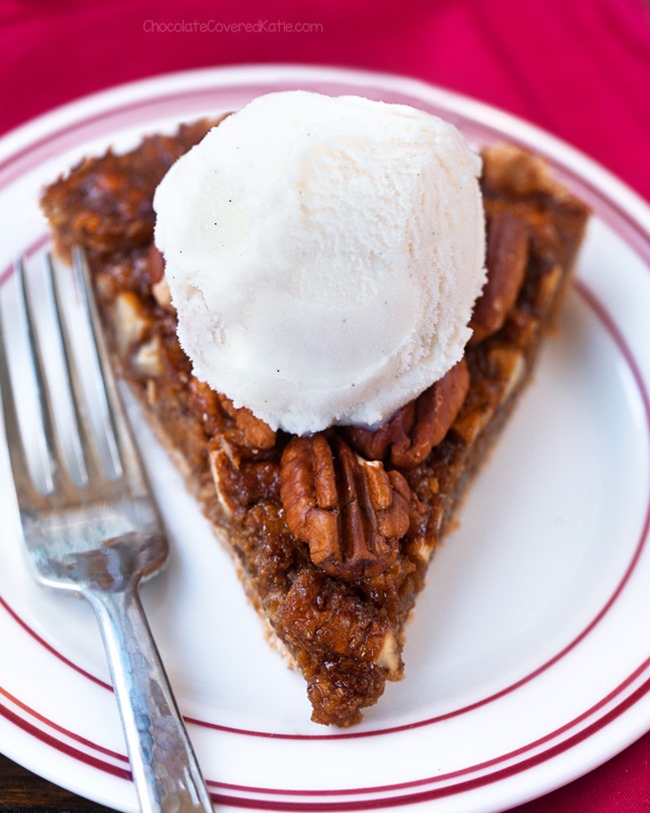 Vegan Pecan Pie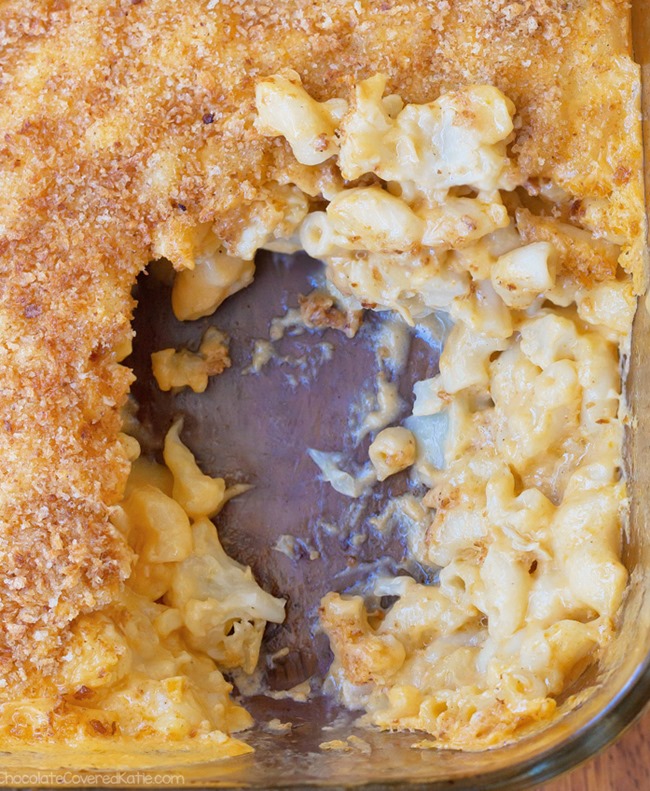 Cauliflower Mac And Cheese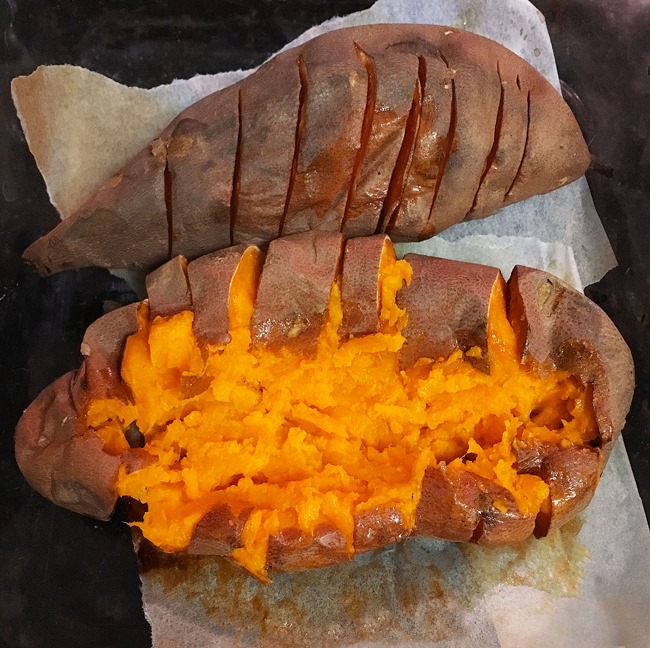 How To Cook Sweet Potatoes – The Better Way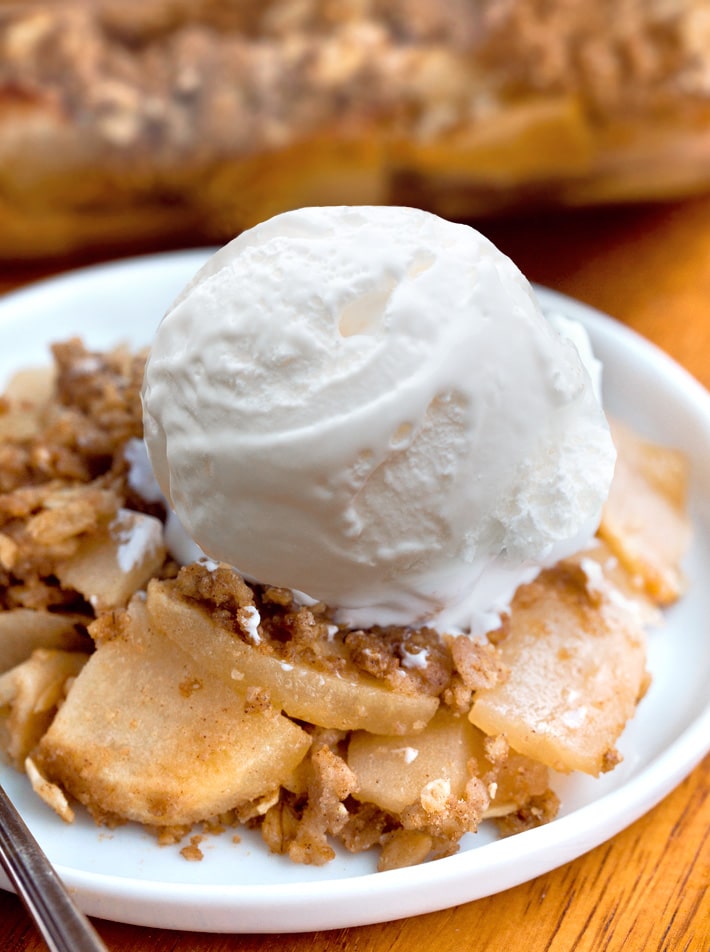 Apple Crisp Recipe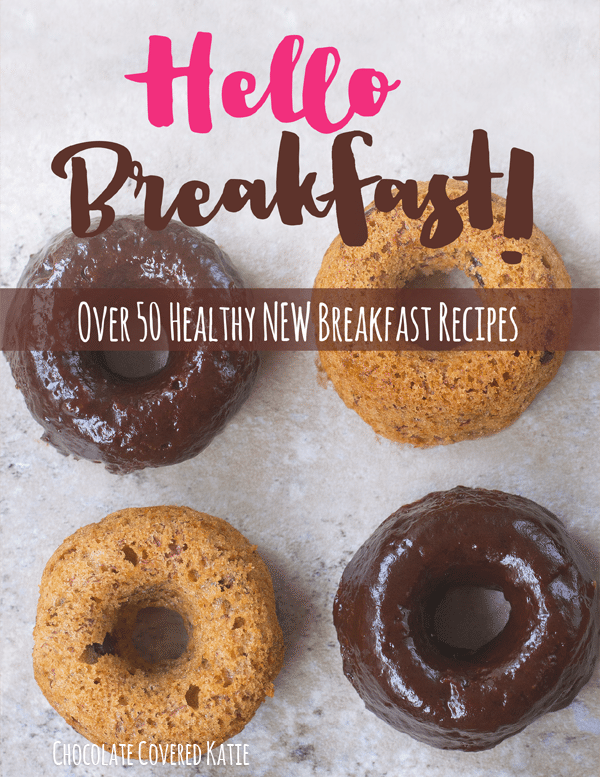 More About The Cookbook
tinyurl
is.gd
v.gd
v.ht
u.nu
clck.ru
ulvis.net
shrtco.de
tny.im